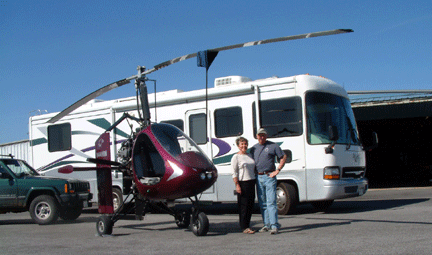 News Flash!!
At approximately 4 pm Mountain Daylight Time on October 5, 2005
I landed at St. George, Utah completing the trip and making me the first
person to make a continuous flight by gyroplane to all
48 States in the Continental U.S.
Rob Dubin
Click Here to go directly to our Flight Logs
Expedition Overview
The GyroAmerica project is an expedition to fly a small kit built gyroplane to all 48 states in the Continental U.S. If we are successful in making an uninterrupted voyage to visit each state we will be the first to have ever done so in a gyroplane.
The small expedition is a husband and wife endeavor with Rob Dubin flying the gyroplane and Dee Dubin driving a 34' motorhome with a Jeep Cherokee in tow. Our plan is to go slowly seeing as much of the country as we can. In most instances we'll only travel a few hundred miles a day and will rendezvous each night at small airports along our route. We may only travel every third or fourth day with the off days spent exploring our surroundings.
About the Crew
Rob and Dee Dubin have been the owners of a Denver based film production company since 1976. With Rob working as a director/cameraman and Dee as a producer they have made several television series, and numerous TV commercials, corporate films and documentaries throughout the world. In 1995 the Dubin's put aside the cameras and moved aboard a 40 foot sailboat which has been their home for the last 10 years. During those 10 years they have sailed throughout the Caribbean, parts of South and Central America and crossed the Pacific Ocean to Australia. Their boat is currently in storage in Australia and following the GyroAmerica expedition they plan to return to the boat and continue their sailing circumnavigation of the world.
To leave this website and read about the Dubin's sailing adventures click here.
To leave this website and read about the fantastic Xenon Gyroplanes that Rob is importing from Europe click here
To read about our gyro expedition and see pictures click here to go to our Flight Logs.
What is a gyroplane?
A gyroplane is similar to a helicopter in that it has rotors instead of wings, but unlike a helicopter a gyroplane has a propeller pushing it through the air and the rotors are unconnected to the engine. As the propeller thrusts the gyro forward the force of the air going past causes the rotor blades to spin.
To read more about how gyroplanes work click here or look on the Questions and Answers page .
Where are we today?
click here to see where we are now. Our location will be indicated by Dee's ham radio call sign which is KG4AYO.
Thanks to those who got us started on our way!
We want to thank the people and companies that helped us get our gyro ready for this epic flight. Certified Flight Instructor Scott Tinnesand; Terry Eiland, Terry Brandt, Steve, Monte, Brent and the entire staff from Groen Brothers Aviation; and Mark, Julie, Shane, Harold and John from Air West Charters in Phoenix.
Scott is a superb CFI and gave unstintingly of his time and good advice. Groen Brothers were very helpful with preparations and an annual inspection prior to the trip.
Air West run a charter service and flight school in Phoenix and were kind enough to donate a corner of their hangar as a home for us while we prepared for the voyage. The owners Mark and Julie and their crew of talented A&P's simply could not have been any kinder or more helpful- we are very appreciative of all their assistance. If ever you need a charter aircraft in Phoenix they are the ones to call.
Thanks.
Rob & Dee