When I arrived in the Washington, DC area I was fortunate enough to meet Andy Keech who had recently set several world records in his gyroplane. Andy kindly invited me to join him for a drive to NJ to meet several gyroplane legends.
Dr. Bruce Charnov a professor at Hofstra University is not a gyro pilot but he has an intense interest in gyroplanes and has made it his mission to document everything he can about their history. In this effort he was in the process of shooting a television documentary about gyros. Bruce and TV commentator Roland Smith were on hand to film Andy, Steve Pitcairn and Johnny Miller.
Johnny Miller
Captain Johnny Miller will turn 100 years old in December of 2005. As of this writing he is still piloting his single engine Bonanza and if all goes as planned, he will be flying it on his 100th birthday. Johnny is truly a living legend of aviation. He has been involved in airplanes from almost their birth. He remembers seeing Glen Curtiss landing on a nearby farm in 1909. He knew the Wright Brothers, watched Lindberg take off for Paris and has been a participant in dozens of aviation firsts. Johnny was an early barnstormer flying his Curtiss- JHN 4 (Jenny) throughout the country giving rides from farm fields and visiting a different town each week. Captain Miller is perhaps most famous for flying a gyroplane from the roof of the Philadelphia post office every day for a year to demonstrate the viability of airmail. He tested hundreds of planes during World War II and later had a career as an airline Captain.
Steve Pitcairn and Miss Champion
Steve is the owner and pilot of Miss Champion a beautiful Cierva-Pitcairn autogyro built in the 1930's. Steve's father Harold Pitcairn built the first autogyros in America under license from Juan de la Cierva the inventor of the gyro. The Pitcairn company also built the beautiful Pitcairn Mailwings, early airmail planes of which Steve still has several maintained in pristine condition in his hangars in NJ.
Andy Keech
Andy flies a Little Wing tractor type gyroplane in the style of Miss Champion. He recently flew his gyro named Woodstock from coast to coast both directions setting world records in the process. He also holds the gyroplane altitude record of over 26,000 feet.
Unfortunately the heavy downpour prevented Steve from flying Miss Champion but the opportunity to spend time in the company of these Gyroplane Legends made the day a huge success.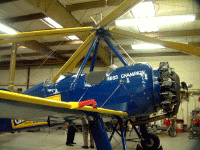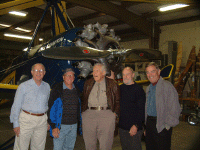 Miss Champion L to R: Bruce Charnov, Rob Dubin, Johnny Miller
Andy Keech, Roland Smith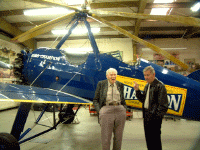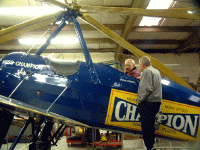 Johnny Miller & Roland Smith Steve Pitcairn in Miss Champion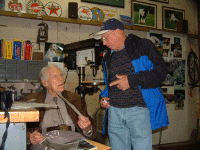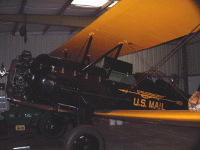 Johnny Miller & Rob Dubin Pitcairn Mailwing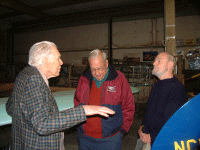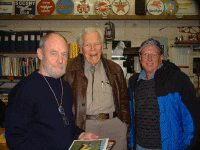 Johnny Miller, Steve Pitcairn, Andy Keech Andy Keech, Johnny Miller, Rob Dubin