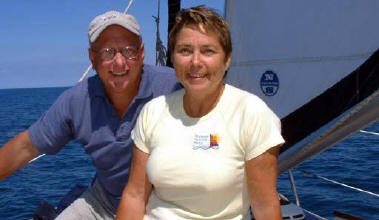 Rob Dubin
Rob is a Colorado native and graduate of The Whiteman School in Steamboat Springs, Colorado and Brooks Institute of Photography in Santa Barbara, California. Rob started Alpine Film Productions in Denver in 1976. He enjoyed a 20 year career as a director/cameraman on a wide variety of film productions all over the world. Rob was a founder and past President of the Colorado Film and Video Association and on the board of the Association of Independent Commercial Producers. He has worked for the major television networks as well as directed several documentary based television series. As a cameraman he has specialized in helicopter aerial work and adventure sports cinematography. At age 42 Rob retired and he and his wife Dee began an adventure to sail around the world.
Rob began flying fixed wing Cessna 172s in the fall of 1994 doing his first solo a month later and getting his private pilot's license 3 months after that. He also has an instrument rating, single engine sea plane rating and rotorcraft/gyroplane rating. Rob is a relatively low time pilot- at the start of the GyroAmerica trip he had 525 hours total flight time with about 75 hours of that being in gyroplanes.
He is an accomplished skier, sailor, mountain climber, kayaker and bicyclist.
Past highlights include sailing across the Pacific Ocean on a 40' sailboat with his wife Dee, summiting Denali (Mt. McKinley) in Alaska, and making the first descent by kayak of the Jatate' river in the jungles of Mexico.
Dee Dubin
Dee was born in Bangor, Maine near the close of World War II. She was raised in Cleveland, Ohio where her family has deep roots. Her grandfather was the mayor there before moving on to become a U.S. Senator and U.S. Supreme Court Justice. She graduated from Vassar with a degree in economics. When Dee heard John Denver sing "Rocky Mountain High" she decided it was time to move to Colorado and find her bit of paradise.
In Denver she worked as the assistant to the Executive Director for the Regional Transportation District and then moved on to U.S. Home Corporation where she was a Project Manager for several large construction projects. She met Rob in 1979 and began working as a film producer. Dee was instrumental in the growth of their film production company and in the subsequent launch of a second company Sailing Quarterly for which she produced 30 one hour video tapes and 3 TV series on the sport of sailing.
Dee is an avid sailor and skier and enjoys yoga, needlepoint and visiting with friends. She looks forward to searching out the people and places that make America unique.